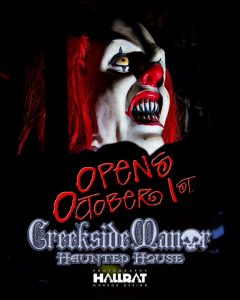 Every year Mabel and her band of deplorable's celebrate All Hallows Eve by welcoming the dead to walk the hallways of Creekside Manor.
This year Precious, Mabels second born child and Hattie the Nanny have returned to the land of the living. Secretly Victoria is scheming to convince Precious to take the house away from their mother.
Precious must get a warning to Mabel.
Sir Frederick attends the bar serving up Halloween toasts to Mable as she celebrates All Hallows' Eve.
Spirits come alive as you make your way through the bedroom, the library then outside to the family cemetery where old Joe has been digging his own grave for the last 9 months.
Butcher is harvesting prime cuts of meats for Mables BBQ. It's not PORK BBQ.
Don't worry The Twins are anxiously looking for their sister Precious.
The clowns will confuse and take control of your every step the rest of your journey.
Good luck and Thanks for visiting Creekside Manor.
Summary
Creekside Manor is a quaint Inn located along the Conococheague Creek in western Maryland. It is owned and operated by Mabel Mockenburry and her family where Mable is known as a gracious hostess cooking up and serving great BBQ with unknown secret ingredients.
The Manor has had a troubling history of odd residents and rumors of disappearing guests throughout its existence.
Every year during October Mabel and her gang of deplorable's celebrate All Hallows' Eve in grand fashion.
Mabel always conjures up some interesting guest to help celebrate Halloween.
Please join Mabel and her gang of Deplorable's as they celebrate this year.